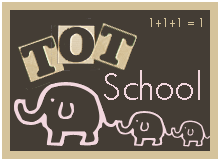 C is 21 months old
This week we learned about the letter M!
I don't have many pictures from this week.
At the library the theme was "Yellow Moon" The project was to color and glue a moon on a piece of paper and put some star stickers in the sky. I never had an "M" activity planned, so this was it :)
We marble painted the letter M. C didn't like this at all. She wanted to pick up the marbles and paint with them like they were a brush.

She enjoyed putting popsicle sticks in the oatmeal container
Otherwise we just played with her toys, puzzles, tot tools, read lots of books. C
loves
the "That's Not My..." series by Fiona Watt. This week we checked out
That's Not My Monkey
from the library.